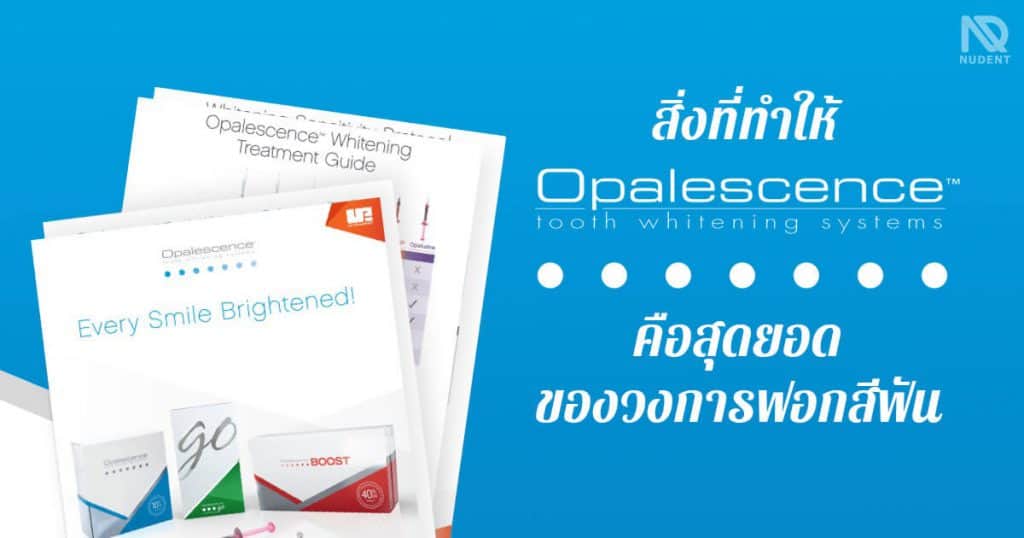 As the global leader in tooth whitening, the Opalescence™ whitening family has become beloved and trusted by patients and clinicians alike. With multiple Townie Choice, Reality's Choice, Dental Product Shopper awards, and more, we've got the laurels to prove it.
As proud—and grateful—as we are of these accolades, they aren't why Opalescence tooth whitening is a success. Ultimately, each and every one of our tooth whitening products is a success because it works for you and your patients! So, let's take a look at the product itself and see what makes Opalescence tooth whitening so great.
Whether your patients want to whiten their teeth at home, at your dental office, or as they go about their day, Opalescence whitening products give your patients options to get the white smile they want. With in-office whitener, prefilled whitening trays, custom-made whitening trays, and more, Opalescence tooth whitening allows you more versatility and convenience in your whitening treatments.
For example
Opalescence™ Boost™ in-office whitening is perfect for those patients who need a brighter smile fast, with most patients seeing noticeable results after a little more than an hour.
Opalescence™ PF custom whitening trays allow your patients to comfortably whiten at home and even overnight.
Opalescence Go™ whitening's innovative, UltraFit™ tray is perfect for your patients who want to whiten practically anywhere. It is ready to use right out of the package and easily adapts to any smile!
Opalescence tooth whitening also offers specialty products that are able to treat unique cases. Whether you're lightening tetracycline stains, whitening a non-vital tooth after a root canal, or treating a patient with braces, there's an Opalescence whitening product for everyone.
To help you give your patients the best possible whitening experience, we've created a useful Opalescence Whitening Reference Guide that you can download for FREE below. This will help you determine the best treatment for your patients based on their lifestyle and whitening needs.
Tooth Whitening that Is Safe and Actually Works
Many patients think that tooth whitening is bad for their enamel, will damage their teeth, or will be uncomfortable—or even painful! The reality is that tooth whitening is very safe. With Opalescence tooth whitening you are able to determine the right whitening treatment for your patients by tailoring their whitening based on strength and wear time. Our products are also designed with patients' comfort in mind to ensure that they have the best whitening experience possible.
One key factor that sets Opalescence whitening apart is its patented sticky viscous gel. Other tooth whiteners can be hard to apply, making them ineffective and discouraging to use. But Opalescence PF whitening gel is the perfect consistency, allowing it to stay inside the custom-made tray and in contact with the teeth rather than seeping out past the gumline.
Not only will it stay in place, Opalescence whitening gel is designed with a perfectly balanced and buffered pH to closely match the pH of the mouth. And unlike other whitening products, Opalescence whitening gels are water-based to keep teeth hydrated during the whitening process. Its high-water content not only helps reduce sensitivity, but it also reduces the likelihood of shade relapse in the future because your patient's teeth will stay hydrated from start to finish.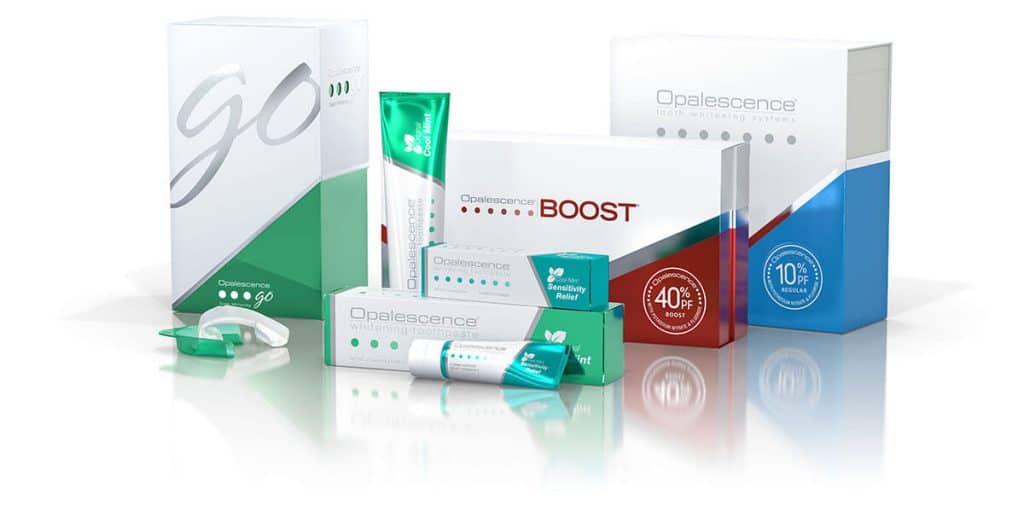 Tooth Whitening for Sensitive Teeth
For your patients searching for tooth whitening but are concerned about tooth sensitivity, we are here to help. Tooth sensitivity varies from person to person depending on what factors are contributing to their discomfort. Some may have sensitivity to hot or cold temperatures or sensitivity after a filling or a crown, but no matter the cause sensitivity is a pain!
There are many ways to help manage your patient's sensitivity prior to, during, and following Opalescence whitening treatment. Ultradent's Enamelast™ fluoride varnish, UltraEZ™ desensitizing gel, and Opalescence™ Sensitivity Relief Toothpaste can each be used at different stages of the whitening process to treat various contributing factors.
To help you better determine which Opalescence whitening product to use based on your patient's unique whitening needs, we've created the Opalescence Whitening Treatment Guide and Sensitivity Protocol that you can download for FREE below.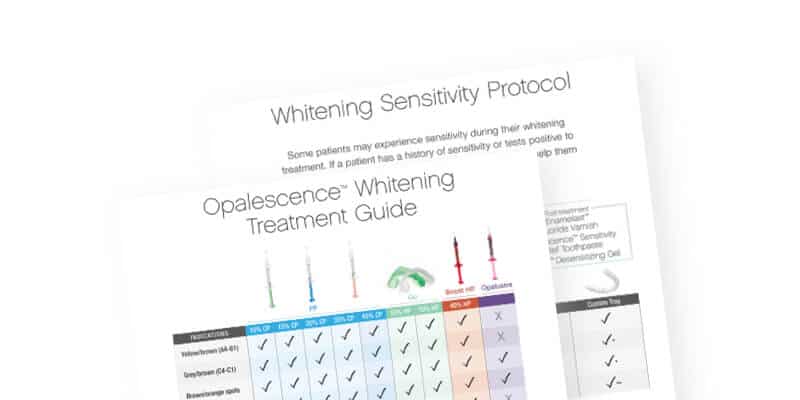 Click on the button below to download the Opalescence Whitening Treatment Guide.
The versatility, effectiveness, and convenience of Opalescence tooth whitening makes it easy to use, whether you're a whitening patient or a dental professional. In the end, that is what makes Opalescence so great—that it works for you and your patients.
If you would like to learn how to use the different Opalescence products + Need to watch a demonstration of how they work. You are invited to join the Opalescence Family 2021 seminar on Thursday, March 18, 2021, from 09:00 - 12:00 at the meeting room, 5th floor, Nudent Co., Ltd.