Product Details
---
NaviTip delivery tips are available in four lengths and two gauges to easily deliver endodontic sealers, irrigants, and other medicaments of varying viscosities just short of the apex. The cannula of each NaviTip tip is slightly rigid through the base and center, but flexible at the tip to allow for easy navigation of curved canals. Each NaviTip tip is color coordinated to match the corresponding endo file lengths, further simplifying their use.
Controlled delivery to the apex
Flexible, stainless steel cannula easily navigates curved canals
Economical stainless steel material for single use
Available in 17, 21, 25, and 27 mm lengths and 29- or 30-gauge cannula
Single-use only
Note: UltraCal™ XS calcium hydroxide paste should only be used with 29 ga NaviTip tips.
Indications for Use
---
Use NaviTip tips to deliver any endodontic irrigant directly where it's needed—just short of the apex.
29 ga NaviTip tips deliver paste materials:
30 ga NaviTip tips deliver solutions/gels:
Clinicals
---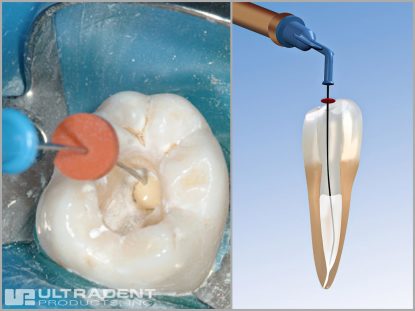 Technical Details
---
The Idea
A colleague and friend of Dr. Dan Fischer's, Dr. Francisco Riitano of Italy, wanted a tip that could deliver medicant directly to the apex of a root canal while also being able to verify the depth of placement, as an endodontic file would be used. Ultradent welcomed the challenge and worked to produce the complex design. What they accomplished was a tip that offers excellently controlled delivery of irrigants and resin sealers directly to the apex through safe, rounded ends and mostly rigid shanks, with the last few millimeters flexible to facilitate navigation through curved canals.
How It Works
​To prevent the shank from "noodling" like wet spaghetti, the NaviTip tip has a design that is rigid for most of the length, with the final 5mm annealed for flexibility. This flex allows "snake-like" navigation through curved canals. To further enable this, we developed the tip with a round outer edge so it wouldn't ledge while navigating to the apex.
NaviTip 31ga with Sideport Irrigator and NaviTip FX
For safer delivery of sodium hypochlorite, use the NaviTip™ 31ga with Double Sideport Irrigator tip. With this tip, the solution is expressed out the sides of the tip, minimizing the possibility of having chemicals expressed past the apex.
When cleaning and scrubbing canals, try the NaviTip™ FX™ tip. It possesses the same great characteristics as the original NaviTip tip, but its flocked cannula allows dentist to scrub, clean, and irrigate simultaneously, saving time and effort.
Sold Directly to Licensed Dental Professionals Only
Ultradent is committed to supporting the dental community. It's important that all treatments with Ultradent products are administered by a professional, ensuring patients have a safe and pleasant experience.
Unmatched Quality
The name Ultradent is synonymous with quality. All of our research and development is done in-house. So is our manufacturing and quality control. This allows us to guide and oversee the entire process—from the time an Ultradent innovation is conceived to the time it's created and packaged for shipping. We have met the strictest standards, and our facility is ISO 13485 certified for medical devices. All of this ensures every product performs exactly as it's supposed to for you and for your patients.
Made in the USA
All NaviTip tips are manufactured at Ultradent's facility in Utah. By purchasing products manufactured in the USA, you're supporting our nation's economy, and you're helping to provide jobs for hundreds of Americans who take pride in what they do.
Brochures
---