C0ntents
1 – VALO™ Cordless Curing Light
50 – Barriers
1 – Surface Bracket
1 – Valo battery charger with  medical grade 12VDC AC Power adapter
1 – Valo Cordless light shield
4 VALO Rechargeable Batteries
Product Details
---
All VALO LED curing lights use a custom, multiwavelength light-emitting diode (LED) for producing high-intensity light at 385-515nm capable of polymerizing all light-cured dental materials. This intensity will also penetrate porcelain and is capable of curing underlying resin cements similar to a quality halogen light.
Every VALO curing light starts as a solid bar of tempered, high-grade aerospace aluminum, which is CNC precision milled at Ultradent's facility in Utah, USA. The unibody construction ensures the VALO light's durability and provides unsurpassed heat dissipation. The elegant, ergonomic, and streamlined design enables the VALO light to easily reach all curing sites without sacrificing patient comfort. The VALO light's aluminum wand, machined components, and tempered glass lens make it the most durable curing light available.
The VALO curing light has a medical grade, international power supply and is suitable for power outlets from 100 to 240 volts. The handpiece is designed to rest in a standard dental unit bracket or can be custom-mounted using the bracket included in the kit.
Ultra-high-energy broadband LEDs cure all dental materials
Optimally collimated beam delivers a complete, uniform cure
Three curing options—Standard Power, High Power, and Xtra Power—offer convenience and flexibility
Slim, ergonomic wand allows unprecedented access to all restoration sites
Unique unibody design is both extremely durable and lightweight
Indications for Use
---
VALO is an LED curing light with a broad-spectrum LED pack designed to polymerize all light-cured products in the wavelength range of 385–515nm.
Technical Details
---
[su_row]
[su_column size="1/2″ center="no" class=""]
Beam Collimation and Uniformity
The collimation of a curing light's beam affects the amount of energy that reaches the restoration site. A beam that disperses will deliver less power than a beam that remains collimated; a dispersed beam can lead to undercured restorations and eventual failures. Unlike its competitors, the VALO curing light delivers optimally and consistently collimated power. With refined optics that create excellent light collimation across the nearly 10mm lens, the VALO light maintains intensity over a greater range of distances.
It is not easy to maintain a specific distance from the restoration, where the typical proximal box is approximately 7mm deep and best practices call for holding the tip of the curing light 2mm from the preparation surface.1 With a superior beam profile, the VALO light ensures more energy is delivered to resin and significantly reduces the possibility that the practitioner will experience distance and offset issues while curing.
In addition to its collimation, a beam's uniformity affects energy delivery across the restoration site. A beam with hot or cold spots yields inconsistent curing, which can compromise restorations and cause sensitivity. The VALO light's multiple LEDs and specialized optics produce evenly distributed energy to deliver consistent results, regardless of the restoration type, size, or location.
Spectral Distribution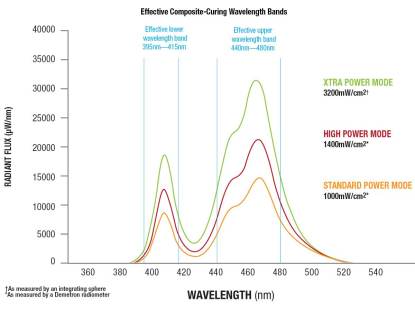 The VALO curing light uses a custom, multiwavelength light-emitting diode (LED) for producing a high-intensity light at 385-515nm. This LED pack produces true broad-spectrum light, which provides uniform curing across the restoration with two significant peak wavelengths, utilizing two shades of blue and violet required for lower-level initiators. This means that the VALO light is capable of polymerizing all light-cured dental materials—including camphorquinone and the entire range of proprietary photoinitiators.
As the options for light-cured materials keep expanding, the composition of the materials becomes more and more varied. Aside from camphorquinone, many manufacturers have turned to other photoinitiators particularly for esthetic composites. Photoinitiators such as Lucerin and PPD require low-wavelength light for complete polymerization. With the VALO light's reliable and proven performance, you can be certain you'll get a quality cure, regardless of the material.
Unprecedented Access
The distance the average adult-male mouth opens is 30mm when working in vivo.2 This limited range, along with the posterior location of many restorations, makes properly positioning a traditional curing light with an oversized head and angled light guide almost impossible.
The VALO curing light's 5° head angle and large 9.6mm glass lens allow for easy positioning of the light and more surface area to be cured at once, saving time and effort. Because the VALO light's wand-style body is designed without the addition of a light guide, it reaches all areas of the mouth without requiring you to overstretch a patient's TMJ and soft tissues—a common problem that can occur with other lights. In addition, the VALO light's large footprint can cure the entire surface of a Class II posterior preparation in just one exposure.
[/su_column]
[su_column size="1/2″ center="no" class=""]
Complete Cure with Any Composite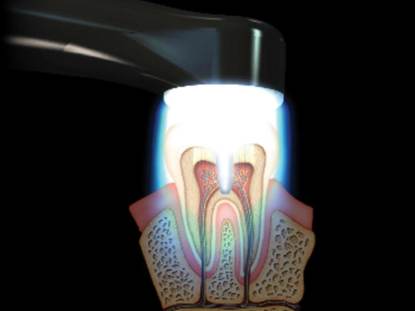 When composite is exposed to light, its reaction depends on the composite's hue, refractive properties, filler type, filler load, and translucency/opacity. Regardless of variations in composite, the VALO LED curing light has the ability to provide a complete cure because of its power distribution and output of broad-spectrum light, which effectively penetrates layers of composite.
3 Powerful Curing Modes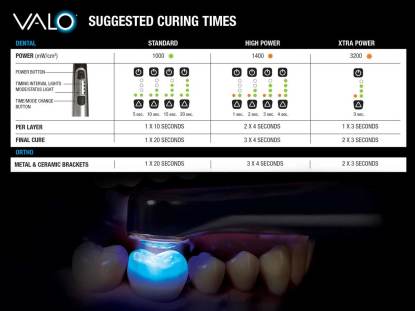 ​Standard Power: 1000 mW/cm2
High Power: 1400 mW/cm2
Xtra Power: 3200 mW/cm2
Each of these 3 curing modes offers varying timing intervals to best meet the needs of the clinician and the procedure.
Proven Performance
In a study,3 the energy delivered to a Class I preparation by 20 dentists with different curing lights was measured with the MARC system,4 the only device available that calculates a curing light's actual power delivered in a truly simulated curing environment. It provides clinically relevant data to better manage the variables that determine the effective use of curing lights in clinical practice. Through this process, it has been repeatedly shown that the VALO LED curing light consistently delivers more energy in less time. Even with the inevitable variation in curing results among testers, the VALO light delivered more energy more consistently.
[/su_column]
[/su_row]
Clinicals
---
Low-Profile Design
Beam Collimation and Uniformity
Brochures
---