Product Details
---
soBlock disposable bite blocks relax the lips and cheeks, allowing full access to facial and buccal surfaces for in-office whitening, Class V restorations, veneers, ortho bracket cementation, and more.
Extremely comfortable
Provides bilateral support with tongue restraint
Indications for Use
---
​IsoBlock bite blocks are used as a tongue restraint and to provide bilateral support during in-office whitening and composite procedures.
Clinicals
---
Provides Patient Comfort During In-Office Procedures
​IsoBlock is ideal for use with in-office whitening procedures.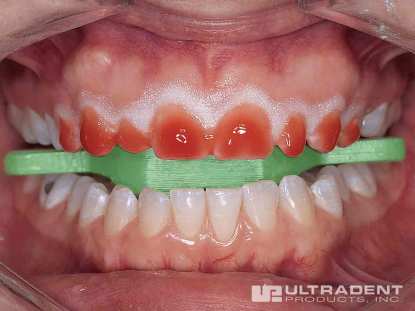 Technical Details
---
Ideal with In-Office Whitening Procedures
IsoBlock bite blocks let your patients comfortably relax their jaws during Opalescence™ Boost™ whitening and other in-office whitening procedures. When IsoBlock bite blocks are used with KleerView™ cheek and lip retractors, you can be confident the soft tissues won't come in contact with the whitening gel.
Simple, Effective Design
IsoBlock bite blocks' simple design provides bilateral support for patients of all ages while effectively keeping the tongue in a safe position.
No Cleanup Required
​IsoBlock bite blocks are disposable, so there's no need to worry about sterilization or reuse. Simply toss them in the trash when the procedure is complete.