GETTING STARTED
---
Remove Protection Caps
Loosen the adjustment knobs on the top and back of the headband.
Centrally position the headband and padding just above the
eyebrows and then tighten knobs.
Vertically adjust the position of the oculars to your line of sight
Adjust pupilary (P.D. Knob) to a comfortable setting where two
images converge together. (see fig 1)
Adjust the tension in the hinge to a comfortable setting. Make
sure to add slightly more tension when using a clip-on light.
---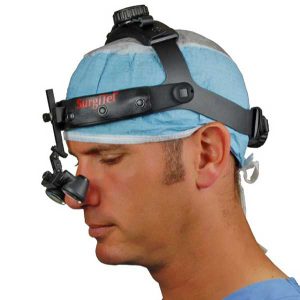 Tighten the top and back knob so that there is even amount of tension in the headband.
Make sure to wear headband so that the padding is resting over the top of your eyebrows.
FEATURES
---
Guideline
---