Lighter Weight
---
ARE YOUR LOUPES 

TOO HEAVY

?
| Galilean/Standard View | Prism/Expanded view |
| --- | --- |
| SurgiTel® Micro Galliean Loupes | SurgiTel® Micro Prism Loupes |
| Other Standard Field Loupes #1 | Other Prism Loupes #1 |
| Other Standard Field Loupes #2 | Other Prism Loupes #2 |
SurgiTel patented high-resolution and lightweight optics have:
The lightest weights available
High definition Optics
Individual Laser alignment

Maximized depth of field options
Enhanced field size calibration
Better Posture
---
DO YOU SUFFER FROM 

NECK PAIN

?
SurgiTel Loupes
Neck at less than 15 degrees
Other Loupes
Neck bent and stretched

"My poor posture with traditional loupes nearly ended my surgical practice. 
SurgiTel® Systems alleviated the pain and saved my career."
-Raymond L. Singer, MD
Professional Magnification
---
LOOKING FOR 

MORE MAGNIFICATION POWER

?
SurgiTel offers the most magnification options: 2.5x – 8.0x
SurgiTel PrismPro® Line Magnifications, Unmatched in Loupes
Only SurgiTel offers the highest loupe magnifications with our patented lightweight optics
None
2.5x
3.0x
3.5x
4.5x
5.5x
6.5x
8.0x
SurgiTel's PrismPro Line Loupes
Depth of Field
SurgiTel optics produce an extra-long depth of field to allow you to work easier
Custom Fitting
---
DO YOUR CURRENT LOUPES COMPROMISE YOUR 

PERFORMANCE

?
A frame for every face
Our combination of nosepad, mounting and frame options provide a comfortable and stable fit
Advanced Frames
---
LOOKING FOR 

STURDY

 WITH 

COMFORT & STYLE

?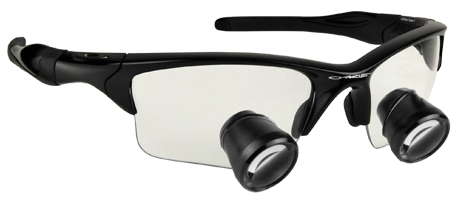 Our Titanium and Oakley frames feature:
Oakley's 3-Point-Fit spreads the loupe weight throughout the frame
Sturdy and lightweight materials first designed for athletes
Steep frame tilt angle enables the best loupe posture
Patented cushioned nose pad designs
Stabilizes Precision OpticsFront-Lens-Mounted (FLM)
Guideline