Product Details
---
EndoREZ canal sealer minimizes the amount of chair time required for obturation. This thixotropic material has an affinity for the moisture found deep in dentinal tubules and lateral canals,1 and provides the most complete seal available. Since methacrylate-based EndoREZ canal sealer relies on chemistry rather than heat or pressure to fill the canal, the risk of additional root trauma/fracture is greatly reduced. Additionally, studies show that EndoREZ canal sealer is versatile enough to be used as the sealer with any obturation method, e.g., master cone, lateral condensation, or warm gutta percha. Create a "monobloc" by using EndoREZ™ resin-coated gutta percha points.
The world's first hydrophilic and self-priming resin sealer
More effective obturation in less time
Provides a complete, thorough seal2
Has the same radiopacity as gutta percha
Bonds to resin-based core/composite materials
Retreatable when combined with gutta percha3
Provides syringe delivery to the apical third
Indications for Use
---
EndoREZ canal sealer is designed to be used with EndoREZ™ Points and/or gutta percha for the filling of cleaned and shaped root canals. EndoREZ canal sealer, in conjunction with a master cone and accessory cone, provides optimum sealing. Although EndoREZ Points are recommended, EndoREZ canal sealer may be used with all conventional endodontic obturation techniques.
Clinicals
EndoREZ canal sealer penetrates into tubules and adapts to the walls like no other sealer on the market.
Radiopaque Results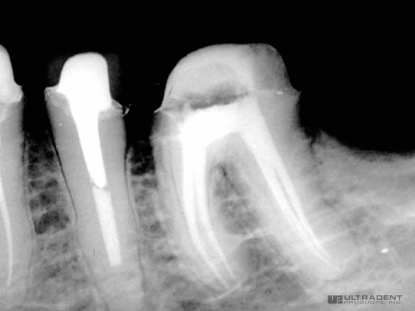 Improved Flowability
Technical Details
---
Time-Saving Ability
EndoREZ canal sealer gives you the ability to buy time. When used conventionally, EndoREZ canal sealer will be completely set in 30 minutes. And when used with EndoREZ™ Accelerator canal sealer, this time can be reduced to only 5 minutes. Compare this to the approximate 10-hour set time other sealers may require, and it's clear: EndoREZ canal sealer makes every RCT faster.
Moisture Affinity
EndoREZ canal sealer contains a special hydrophilic organophosphate methacrylate monomer that increases its hydrophilicity and produces a resin with a strong affinity for moisture with resin penetration of 1200μ into the tubules.
Ultimate Adaptability
EndoREZ canal sealer is formulated with a nanoparticle-enhanced thixotropic flowability that enables EndoREZ canal sealer to adapt closely to every wall of each tubule—even the tubules in tiny lateral canals.
Chemical Obturation
EndoREZ canal sealer relies on chemistry—rather than vertical force, pressure, and heat—for complete obturation. In addition, its easy delivery with the NaviTip™ tips and superior wetting and handling abilities make obturations easy.
Bonds to Resin-Coated Gutta Percha
EndoREZ canal sealer bonds to the proprietary resin coating on EndoREZ™ gutta percha points, creating a contiguous seal between the resin and gutta percha. EndoREZ canal sealer relies on passive insertion of a gutta percha master cone and auxiliary cones. Although EndoREZ Points work well with traditional techniques, they are just as effective when used passively. Less pressure and no heat equals a lower risk of iatrogenic damage.
A Decade of Success
Over the last 10 years, EndoREZ canal sealer has been the sealer of choice in millions of root canal treatments. Years of data and numerous peer-reviewed published studies support its efficacy and long-term stability.2,4