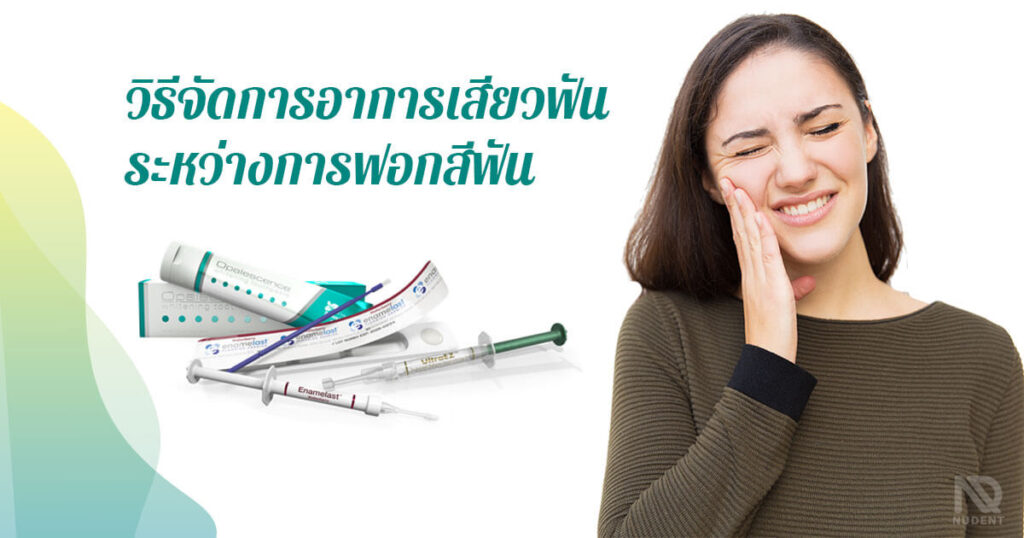 How to Manage Tooth Sensitivity During a Tooth Whitening Treatment
Many dental patients experience tooth sensitivity but don't know how to manage it. Some patients experience sensitivity to hot temperatures, while others experience sensitivity to cold. Many patients experience sensitivity after a filling and a few for what may feel like no reason at all!
Some patients also experience sensitivity as a result of a tooth whitening treatment. Occasionally clinicians shy away from discussing sensitivity and how it relates to tooth whitening. But, given the popularity of tooth whitening, it's more important than ever to discuss it as a possibility. After all, sensitivity can't be treated if it's ignored.
However, before proceeding with any whitening or sensitivity treatment described below it is important to assess the cause and severity of your patients' sensitivity. Be sure to conduct a thorough examination to rule out more serious causes such as decay or exposed dentin from bruxism. Such conditions will require treatment prior to whitening.
Reducing Tooth Sensitivity Before a Tooth Whitening Treatment
Instruct your patients to use Opalescence™ Whitening Toothpaste Sensitivity Relief up to several weeks prior to the start of their whitening treatment. Be sure to send your patients home with enough Opalescence Whitening Toothpaste Sensitivity Relief to use over the course of their whitening treatment as well. It's specially formulated with potassium nitrate to help reduce sensitivity, and it will help keep their smile bright after the whitening treatment by removing surface stains.
Following their cleaning, but prior to beginning their whitening treatment, apply Enamelast™ fluoride varnish to as many surfaces of your patients' teeth as possible. Aside from all of the well-known benefits of fluoride, one of the primary benefits of Enamelast varnish is its ability to help treat tooth sensitivity. It does this by producing a mechanical occlusion of any exposed dentinal tubules which reduces sensitivity and provides relief. Plus, the great taste, non-gritty texture, nearly invisible appearance, and lasting wear time make it incredibily convenient.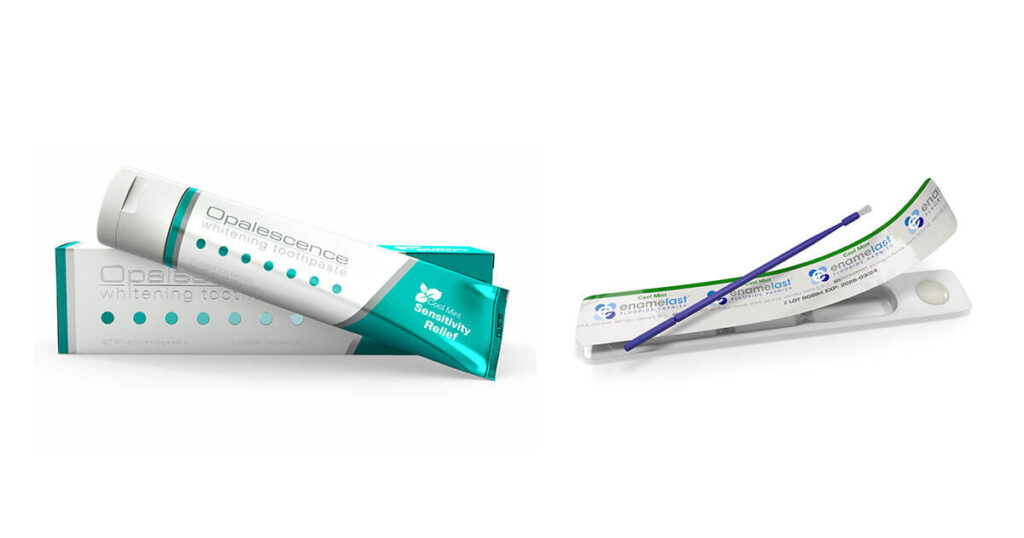 Managing Tooth Sensitivity During a Tooth Whitening Treatment
After a day, any Enamelast varnish remaining on the teeth will not interfere with the whitening treatment. Instruct your patients to begin whitening at home using Opalescence™ PF custom-tray whitening or Opalescence Go™ prefilled tray whitening.
If your patients experience sensitivity while in treatment, UltraEZ™ desensitizing gel is a convenient way to quickly eliminate their symptoms. If they are using Opalescence PF custom-tray whitening, they can fill their tray with UltraEZ desensitizing gel—after thoroughly cleaning it with a soft toothbrush and cool tap water to remove the used whitening gel. For those patients not using custom trays, UltraEZ desensitizing gel is also available in prefilled trays—using the same innovative UltraFit™ tray technology as Opalescence Go whitening—for fast and convenient sensitivity relief.
Treating Tooth Sensitivity After a Tooth Whitening Treatment
If sensitivity persists after treatment you should decrease your patients' wear time, lower the concentration of whitening gel they use, or both. Also, just like Carol recommended, it may be beneficial to ask them to return for an additional application of Enamelast fluoride varnish as soon as they experience sensitivity.
For your convenience, we've created the Whitening Sensitivity Protocol and Opalescence Whitening Treatment Guides that you can download for FREE at the link below. These useful guides will help you easily remember how to manage tooth sensitivity before, during, and after a whitening treatment—as well as find the best whitening treatment plan for your patients.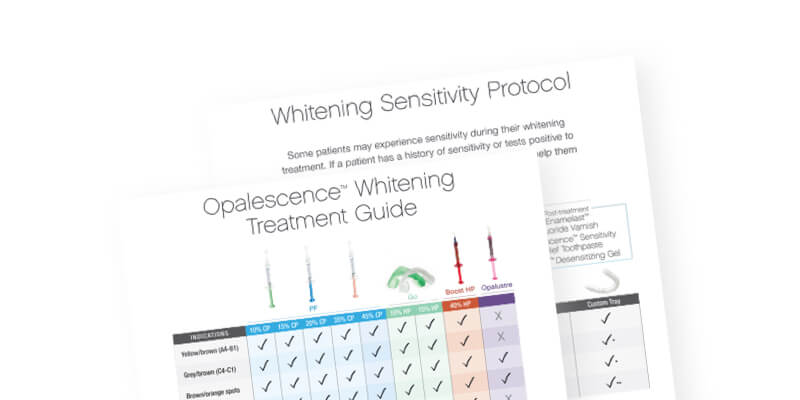 Sensitivity Relief and Successful Tooth Whitening
As dental professionals, patient success is our primary goal. Whatever other concerns we may have as a result of practicing dentistry—from growing the business to balancing the books to managing staff—in the end the most important outcome is the health and well-being of our patients. By following these recommendations and carefully helping your patients manage their sensitivity, you will be better able to see each of your patients through to the successful conclusion of their whitening treatments.