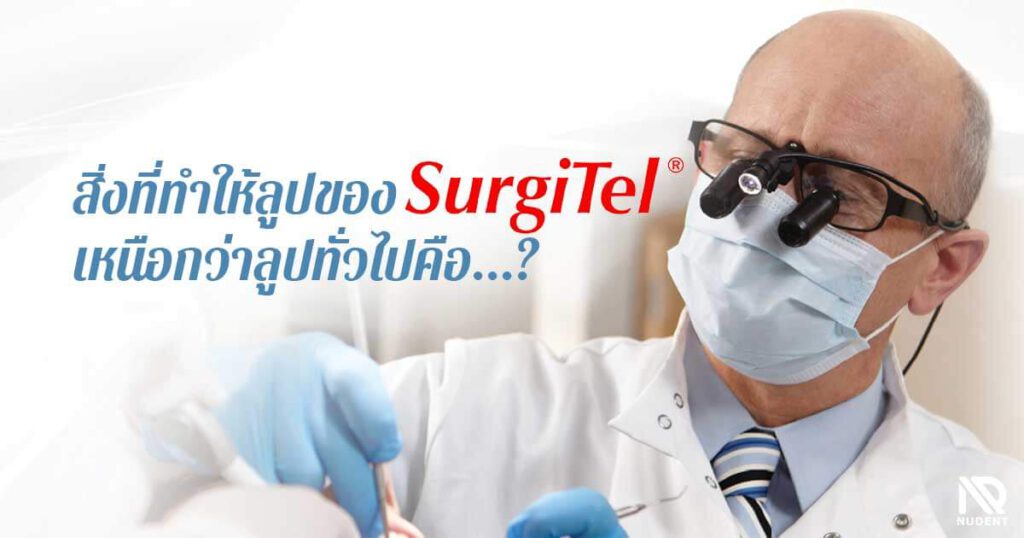 Loupes and LED headlights have become essential vision-enhancement devices for clinicians. An established advantage of using loupes and headlights while working is an improved vision, leading to improved performance. However, the benefits don't stop there. If you use "ergonomically-fitted" loupes, your working posture will improve. This posture transformation prevents or alleviates chronic pain in the neck, shoulders, and lower back.
Misleading Claims and False Advertising
For decades, many loupes have been sold as "ergonomic loupes" and cool LED headlights have been sold as "eye-safe lights". Sadly, these claims, when unsubstantiated, are false. Many custom loupes contribute to chronic working pain, and strong blue light from cool LED lights leads to retinal damage and Age-Related Macular Degeneration (AMD), which is the leading cause of vision loss among older people. Please see SurgiTel's Clinical Health QuickFacts for more information.
When companies make claims about their loupes and lights that are not backed by research, clinicians end up investing in loupes and lights that will lead to discomfort and injury in the long term. Recently, some prominent manufacturers promoted that their loupes were tested by a third party against other leading brands. However, they did not disclose the evaluating organization. How can you verify their claims? Failing to disclose the evaluating organization is misleading to consumers, further clouding the process of choosing safe loupes and lights for your practice.
SurgiTel's Goal
SurgiTel's goal is to help clinicians practice comfortably and safely. We pursue this goal by educating clinicians through our FREE evaluative services and offering products that are backed by science and research. This is the SurgiTel Advantage.
The SurgiTel Advantage
The Leader in Loupes and LED Headlight Technologies: Founded as a division of General Scientific Corporation (GSC) in 1992, SurgiTel has obtained many patents for loupes, headlights, and video cameras, introducing many first-of-its-kind products.
Customizable FLM loupes, portable loupe-mountable headlights, compact prism loupes with larger fields of view,
TTL loupes with larger declination angles, ergo-fit nose pads, and loupe-mountable digital cameras all began with SurgiTel's innovation.
SurgiTel loupes have been recognized as the most ergonomic loupes and our LED headlights as the best LED lights for color accuracy and eye safety (Reference Check: Clinicians' Report). SurgiTel will continue to advance technologies for vision and ergonomics
Products that Science Supports
Loupes: SurgiTel offers customizable FLM (front-lens-mounted) loupes using patented designs (2.5x to 8.0x) and ergonomically-fitted TTL (through-the-lens) loupes using patented technologies (2.5x to 8.0x). There are three lines of loupes for both our FLM type and TTL type: micro line (2.5x to 4.5x), compact line (2.5x to 4.5x), and prism pro line (5.5x to 8.0x). All optics use the highest-grade optical glass materials and special optical coatings (June 2019 ErgoReference).
LED: SurgiTel offers neutral and cool color options for different procedures.
Our LED headlights use true color beam-forming optical technology and are designed to achieve optimal eye safety and superior color accuracy. Our competitors try to imitate SurgiTel's circular beam pattern. However, despite their claims, these beams are not true color. Comparing others' beams with SurgiTel's True Color beam shows a dramatic difference. SurgiTel offers five types of LED Headlights, including wireless types and touch-free switching types (November 2019 ErgoReference).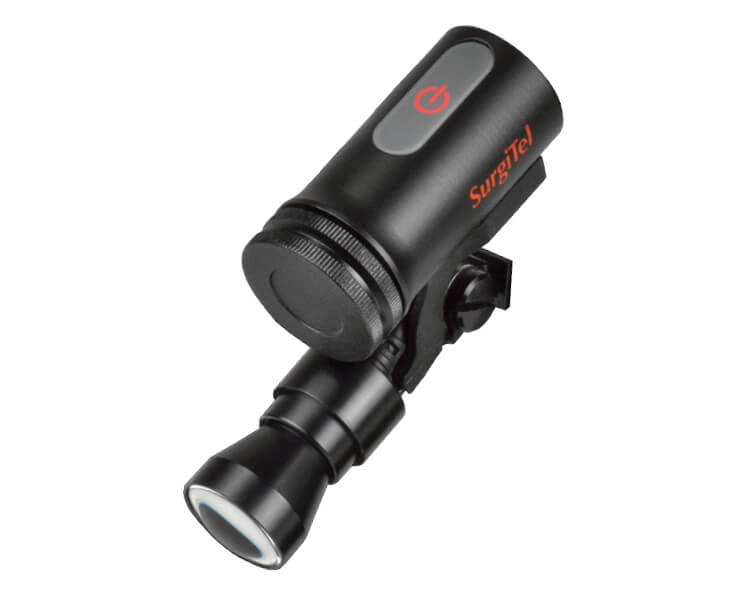 Working Distance Caps for Loupes:
SurgiTel's patented working distance caps allow users to extend or shorten the working distance of their loupes. Reducing the working distance means that users can increase the resolution capacity of their loupes. Users can utilize the same loupes for both detail exams with shorter working distance caps and for normal procedures with longer working distance caps, allowing for optimal posture in every situation.
Based on your working distance, SurgiTel determines your optimal magnification power. We select a custom declination angle so that your head/neck tilt is within a safe range of 20 degrees or fewer, as excessive head tilt will create chronic neck pain. Each SurgiTel loupe is manufactured with dedicated CNC machines and precisely aligned with lasers.
The SurgiTel Advantage in Your Practice
From product innovation to scientific support, SurgiTel demonstrates a commitment to helping clinicians work safely and comfortably. The SurgiTel Advantage is not just one product or one offer. Rather,
when you start to work with SurgiTel as your vision and ergonomics partner, the SurgiTel Advantage comes from working with a company that cares about your safety, your comfort, and your career.