Scope of application
---
This product specification is only applicable to our product XY01.
Electric Specification
---
Power input:DC5V/2A
Single continuous working time:90s
Build in Li-battery : DC3.7V/ 1500mAH
Product Appearance and Structure
---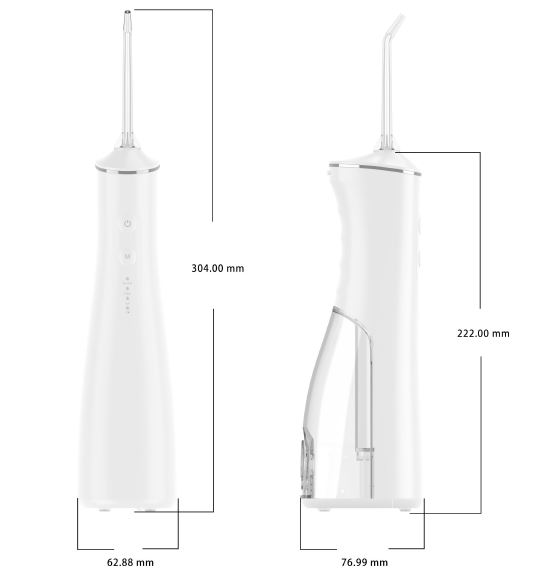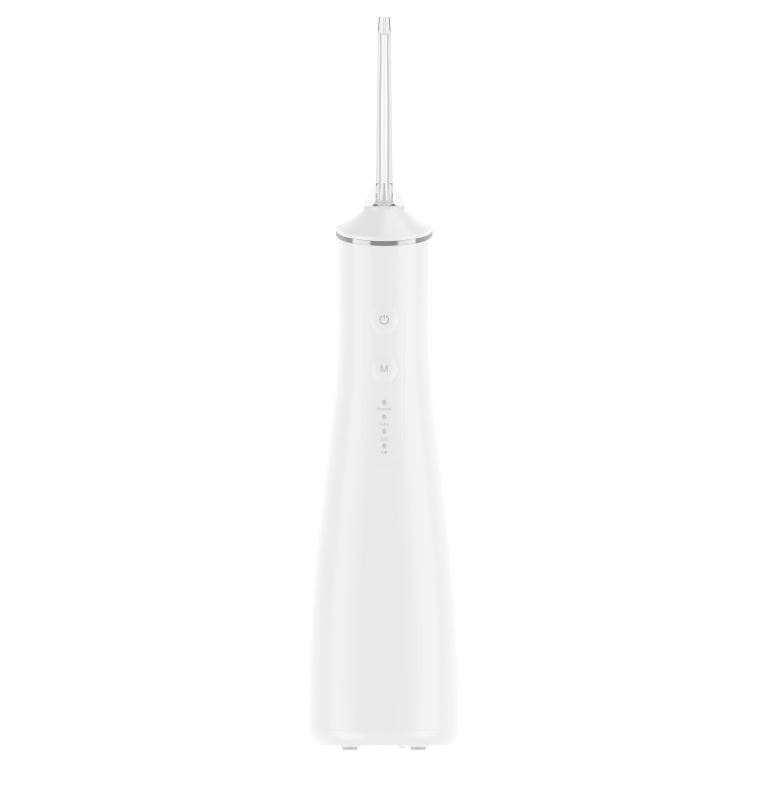 Product weight
---
Net Weight:239g
Product Size:
---
Length: 220.00mm
Width: 76.99 mm
Thickness: 62.88 mm
Safety performance and precautions
---
Test conditions
Ambient temperature:0℃~70℃
Main performance parameters
Electrical function
a. Working Gear
1. 30%~80%, 7.5g~9.5g
Pulse mode: Water output pressure area 7.5g~9.5g(30%~80%),White LED ON
2. Soft mode: Water output pressure 8.8g (70%), White LED ON
3. Normal mode: Water output pressure is 12.5g as 100% MAX output level.b. 2 button operations as below:
1. Power ON/OFF button: Click to open machine, it will stop automatically after 90s. It can keep the working mode in next time.
2. MODE,  Mode button: click to switch working mode
3.

You can press mode button to choice working mode even in standby status. The indicator

LED will be on for 5 seconds and will go out automatically.
4.

It support to change working mode when it's running.

c. DC5V/2A Power input adapter DC5V/2A
1. When the battery is low, the red indicator light will be on for a long time to indicate charging
2. During the charging process, the red indicator light flashes slowly. When it is fully charged, the red indicator light will be on for a long time
3. The battery charging current is about 70% of the battery capacity, which is about 800MAH to protect battery.
Durability requirements
---
At room temperature and atmospheric pressure, let it continue to run for 4 hours, and then test,
the performance should meet the requirements.
Product Features
---
Standard Jet Tips
0.6mm
0.6 mm ultra-fine pulsed water column, deep into the crevices, pits and subgingival areas
Completely remove dental plaque, soft dirt and food residue
Total Page1 Confidential 2021-06-03
Strong jet power, effectively remove stubborn stains
Pulse pressure strength has between, comfortable massage gum, promote subgingival blood
circulation, make teeth stronger
The 99.99% plaque can be removed by spraying for 3 seconds under medium pressure
Effective prevention of dental caries in children
Pressure range:2psi-140psi
It is suitable for daily nursing and adjuvant treatment of dental scaling people (gingivitis,
periodontitis, orthodontics / correction, denture and implant)
It is suitable for daily oral care of people over 3 years old (children should use it under the
guidance of their parents, and patients with serious dental diseases should follow the doctor's
advice)
Drop Test
---
At room temperature and normal pressure, the product should fall freely (six sides, four
corners) 80cm from the wooden floor (or wooden table top). The appearance should be free from
serious deformation and cracking, and the function should be normal.