Product Details
---
PermaFlo DC luting resin is the most versatile product within Ultradent's family of cements. It is ideal as a luting material for crowns, bridges, inlays, and onlays and can also be used for endodontic post cementation and fabrication of core buildups. As a highly filled dual-cure composite/luting restorative resin, PermaFlo DC luting resin provides maximum strength and durability.
Multiple uses including post cementation, core buildup, and luting
Highly filled (70% by weight)
Thixotropic with low film thickness (9µm)
Wear resistant
Maximum strength
Radiopaque
Low polymerization shrinkage
Self-mixing
Redesigned syringe for easy dispensing
2.5 minutes working time, 5–8 minutes set time

Indications for Use
---
PermaFlo DC luting/restorative resin is recommended for permanent cementation of crowns, bridges, inlays, onlays, endodontic post cementation, and fabrication of core buildups. PermaFlo DC luting resin flows easily through a small orifice tip, making post luting simple and convenient. Its optimal viscosity flows easily into the depths of the post preparation and then intimately around protruding, direct-placed posts. To stop material flow during core build-up, tack with a curing light. PermaFlo DC luting resin is compatible with Peak™ Universal Bond adhesive for light-cured bonding and luting.
Clinicals
---
Syringe Delivery
​With syringe/tip delivery, a crown is loaded from the depth of the crown to ensure no air entrapment.
Use From Post to Crown
PermaFlo DC luting resin's versatile dual-cure resin formula can be used to cement endodontic posts and fabricate core buildups.
Technical Details
---
Versatility
Use PermaFlo DC luting resin to lute inlays, onlays, crowns, and bridges. It can be used with porcelain, lithium disilicate, zircona, porcelain fused to metal, metal alloys, leucite-based ceramics, alumina-based ceramics, mica-based ceramics, gold, and composite.
Lowest Film Thickness in a Luting Composite Resin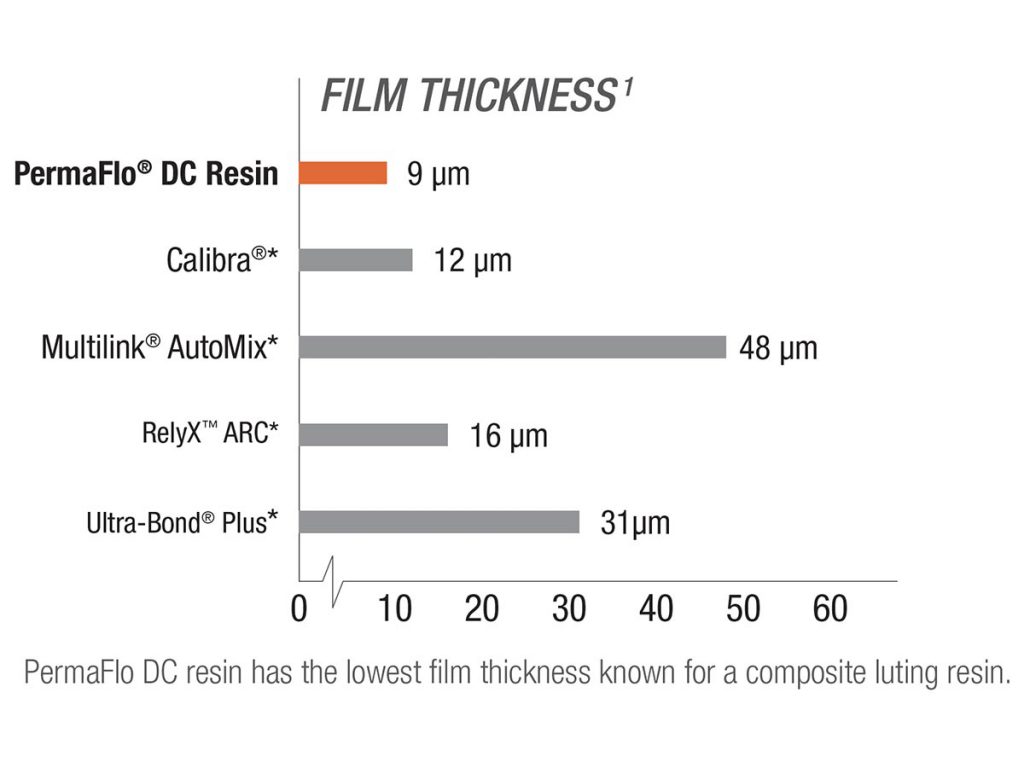 Available in Four Shades
PermaFlo DC luting resin is available in A2, A3.5, Translucent, and Opaque White shades.
Gluten Free and Kosher Certified
PermaFlo DC luting resin is gluten free and kosher certified, so it fits in with the lifestyles and beliefs of patients from any background.
Sold Directly to Licensed Dental Professionals Only
Ultradent is committed to supporting the dental community. PermaFlo DC luting resin is only sold directly to licensed dental professionals.
Unmatched Quality
​The name Ultradent is synonymous with quality. All of our research and development is done in-house. So is our manufacturing and quality control. This allows us to guide and oversee the entire process—from the time an Ultradent innovation is conceived to the time it's created and packaged for shipping. We have met the strictest standards, and our facility is ISO 9001 certified. This ensures every product performs exactly as it's supposed to for you and for your patients.